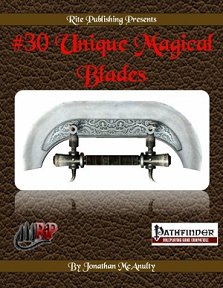 Beginning with the tagline 'Because every blade should tell a story' this work lays out details of an armoury-full of distintive and interesting weapons, the sort that any hero worth his place in a bard's repertoire should aspire to wield.
There's a table listing the weapons in value order, from a mere snip of just over 4,000gp for a glaive-guisarm called Horse Daughter's Kiss up to a staggering 175,000gp for Ice Queen, a spectacular sword magically-forged from a single piece of steel. Each weapon then gets about a third of a page to itself, with necessary game mechanical details, a paragraph giving its history and another with a vivid description of the item... and a full-colour picture. A reasonably tech-savvy GM could no doubt extract the pictures if he wants to display them to characters picking through treasure hoards or receiving rewards from grateful potentates - despite the 'price list' at the beginning, these are not the sort of thing you pick up at the corner weapons store!
Several of the weapons are truly unique, not just in terms of story or even powers, but having been crafted to original designs. For example, a pair of hand-blades were created at the behest of a halfling monk who worked as a chef - and Slicer and Dicer bear a passing resemblance to something you might chop herbs with in the kitchen! Or if you really want strange, how about an axe which can change from throwing-axe to great axe according to its wielder's whim...
There is plenty of scope here, from something unusual to spice up a treasure hoard - and give the characters something to research - to inspiration for a whole campaign revolving around one of thse unique magical weapons. The stories are self-contained enough that they can be dropped into your existing campaign world with minimal changes if so desired. Even the mages and clerics might be interested, and those characters who use edged weapons will be eager to get their hands on any that they hear about! A fine example of how to devise individual, interesting items.
Return to 30 Unique Magical Blades page.
Reviewed: 29 March 2011