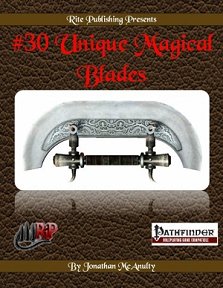 Who would not like to own the sort of weapon about which stories are told?
Publisher's blurb: "Don't your heroes deserve weapons with as much background and personality as the adventurers who carry them? The valiant are known by the weapons they wield - Excalibur, Hrunting, Joyeuse, Narsil, Sting - all blades that cut into the hearts of enemies simply by uttering their names. What weapon will your hero carry into legend?
"With #30 Unique Magical Blades, you'll have plenty to choose from, whether you're an axe-wielding barbarian, a rapier-drawing gentleman, a two-fisted rogue or a longsword-slashing knight. Select from weapons like Ebon Crow, the northman's battleaxe known for its utility and gift of stability, the Heart of Flame, a longspear once bonded to a famous evoker, or Oathbreaker, the dagger plunged into the heart of a corrupt monarch.
"This product includes construction costs, descriptions and illustrations, as well as historical notes to help you incorporate these blades into your world. And with gold piece values of four thousand to one-hundred seventy-five thousand, there's something here for every campaign."
Book Details:
Author: Jonathan McAnulty
Publishers' Reference: RIP0102
ISBN: n/a
PDF, 11 pages
Date: November 2010
Buy this product:
Product page last updated: 29 March 2011