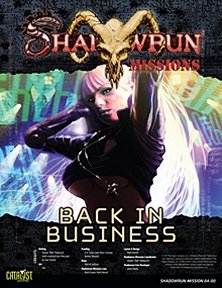 The new season of the Shadowrun Missions shared campaign takes the storyline to Seattle, and this first adventure opens with atmospheric fiction as a veteran local 'runner takes a call about a job and wonders which of the newcomers to town might be up for it...
The overall approach to structure is interesting. With the core use of 'shared campaign' scenarios being at conventions or other settings where time is limited, it is necessary to make effective use of the time available and the structure is designed to facilitate this. Each scene begins with an overview, then there is the introductory description for the players, the main body looking at what NPCs are doing and how they might react to character actions, extension information for those who have more powerful and experienced characters or who like - and have time for - more developed and convoluted events, and some troubleshooting notes to enable the GM to cope when the characters don't do what is expected of them (er... like always?). Fairly standard, but neatly done with evidence of careful thought. There's plenty of advice to enable all but the most inexperienced GM to cope with the adventure.
And so, on to the Mission Synopsis. There's a lot going on, and events serve to introduce the characters to many of the major players in Seattle, factions and organisations and individuals with whom they will have to deal in the future if they want to make a career out of shadowrunning in this city. Several extra job offers are flying around, and the neat thing is that whatever the characters choose to do they will make both friends and enemies during this initial run!
The adventure proper begins with a brief scene to cater for those characters arriving in Seattle from elsewhere and, in particular, those who have been participating in the previous season of adventures set in New York). It serves as a bit of a bridge, establishing continuity, but can be omitted if the characters are already in Seattle or if you feel that time might be an issue later on. Events in the last scenario, Elevator Ride to Hell, are referenced, with scope for you to tailor this scene to reflect what your characters did when they played it. Even if they didn't, there's scope to give them good reason to depart New York in a hurry - and likely to be looking for work by the time they reach Seattle. If running a home game, suggestions for making much more of this are given.
Once in Seattle, the action proper begins with an invitation to a concert in the sort of nightspot that people want to be seen in, never mind want to actually get into. It's well-detailed, and if you regularly run games set in Seattle you may want to co-opt it for yourself. While the real purpose for going here is to meet the fixer and get hired for the job that comprises this adventure, it has been built into a convincing event in its own right, getting around the standard 'meet the fixer in a bar and get a job' that begins all too many adventures!
Hired for what ostensibly is a simple job, although there isn't much to go on initially, the action soon hots up as other people vie for the characters' attention and services, with everything interlocking neatly to make a complex and harmonious whole, an adventure that is embedded in much wider events rather than a discrete task in isolation. It makes for a nice immersion in the alternate reality of 2070s Seattle. Actually finding a starting-point in their quest could pose some problems for characters low on ideas or if the dice fail to cooperate - especially given that they are supposed to be new in town. Once they have found their way in, a pitched battle between two gangs and the ensuing Knight Errant involvement ensures that their task is not straightforward...
Despite the obfuscation caused by subplots and byplay of unconnected events, the main adventure is actually quite easy to complete and most characters ought to be able to achieve their objectives. The extra bits just serve to ensure that it's a lively introduction to Seattle, and it's getting to be one of those moments when I wished I played more and reviewed less! Maybe I'd better round up some players and run this...
Return to Back in Business page.
Reviewed: 20 February 2011