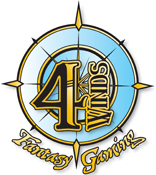 Connie and Robert Thomson, co-owners of this American-based company formed in March 2009, strive to bring new, useful, quality materials to gamers worldwide. Beginning by writing resources for Dungeons & Dragons 3e under the OGL, they soon switched to writing specifically for the Pathfinder RPG.
In January 2013, the company was sold to Purple Duck Games. Most of their product can still be found there...
GM's Aids
Player's Aids
Player's Options
Resources for the Pathfinder RPG
Random Acts of... - system-neutral lists of events, for use when inspiration runs sort or you'd just like an element of randomness
Visit their website (archived January 2013).
Company Section last updated: 4 August 2017