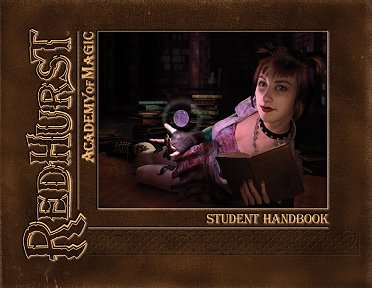 Presented as the Student Handbook, this product introduces the Redhurst Academy of Magic, which - if you believe their PR - is the foremost magical university in not just one but a whole bunch of realms. You may use the establishment in any one of a number of campaign settings (or your own, of course)... or even several of them. The campus itself travels around, you see. It includes detailed plans of the campus, notes on the faculty and an outline of what you'd study there. Perhaps you may wish to run a campaign around the lives of a group of students, or a magic-using player in your campaign may be a graduate and so get involved in... the other things that go on there.
Publisher's blurb: "You're one of the lucky few to be admitted to the finest institute of magical knowledge in the world: the Redhurst Academy of Magic! Tell your friends and family! The Redhurst campus--the only school that travels by teleportation--will be coming to pick you up soon.
"Many hopefuls apply every year. Few are chosen. Those that make the cut have the talent to rise to the top. The deans of the eight schools of magic stand ready to impart their hard-won knowledge of magical manipulations to a whole new generation of up-and-comers. This year's class of super-students now includes you!"
Click HERE if you want to buy this book from Fast Forward Entertainment's online store.
Book Details:
Authors: Matt Forbeck, Seth Johnson, Timothy S. Gerritsen, David Gulisano and Paul Tutcher.
Publishers' Reference: HHS1001
ISBN: 1-932488-00-6
Hardback, 160 pages
Date: July 2003