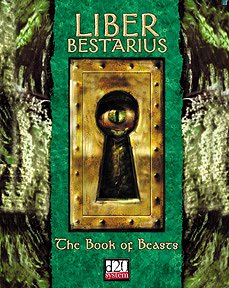 A fine new collection of monsters to visit on your players.
Publisher's blurb: "Your players are in high spirits after finishing a particularly difficult dungeon crawl. They return to the local tavern, boast of their famous deeds, and display the artifact they acquired as reward for their efforts. The other patrons are suitably impressed. After all, these men and women are Heroes.
"In time, the night of merriment draws to a close. Most of the other patrons have long since retired, the PCs are tired, and the barkeep was especially generous with the ale. The PCs are aware they have a long day of travel ahead. They tell you that they are bedding down for the evening and you respond, "Good idea . . . as you leave your table, nodding 'good night' to the barkeep, you are interrupted by a loud noise. You turn just in time to see the heavy wooden tavern door explode inward."
"In the doorway, seconds away from attacking the PCs, stands an monstrous combination of Devil and Paladin. Summoned from exile in the Abyss, the creature knows no pain, needs no sleep, and will not stop until it has slain every member of the party, and retrieved the artifact they fought so bravely to acquire. Its master is ruthless and diabolic. His sole command: "Seek power, and surrender it to me!"
More when I get hold of a copy!
Book Details:
Author: Matthew Colville
Publishers' Reference: EDN7000
ISBN: 1-891153-56-0
Hardback, 160 pages
Date: 2002
Buy this product:
Product page last updated: 18 May 2019