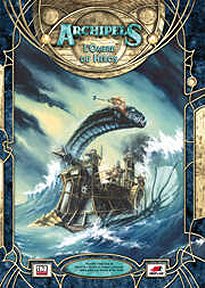 Second in the Trilogy of Shadows campaign adventure series set in the Archipelagos. It's suitable for characters of 3rd-4th level, carrying on from The War of Shadows... or it may be played as a stand-alone adventure in your own campaign world.
Publisher's blurb: "Zarko the explorer has made a great discovery-a stroke of luck that will finally make him rich. There are endless clients: an old wise man and his charming sponsor, pro-slavery monks, bloodthirsty runic warriors and a certain group of heroes that have chased him throughout the lands of the Archipelagos. All he has to do is figure out which ones will pay him in gold-and not the business end of their blades."
More when I get hold of a copy!
Book Details:
Authors: Unknown
Publishers' Reference: EDN7102
ISBN: 1-891153-28-5
Paperback, 96 pages
Date: Due early 2003...