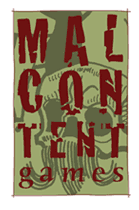 Malcontent Games was launched in 2002 to publish the English-language edition of the highly acclaimed Rêve de Dragon, a roleplaying game of oneiric fantasy. Written by Denis Gerfaud, it has had a loyal following in France since the mid 1980s, and now as Rêve: the Dream Ouroboros it is garnering rave reviews from English-speaking players.
In 2005, Malcontent published an original game, Seven Leagues, rooted in faerie and folklore.
Visit their website.
Company Section last updated: 30 March 2011