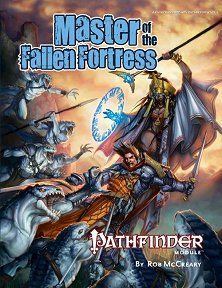 It all began with an earthquake and an ancient siege tower that apparently wasn't built to code... a bit crumbled away, providing an opportunity for some neophyte adventurers to go exploring. Needless to say, they weren't the first to take advantage of the crumbled wall.
The exploration of the tower - and dealing with an assortment of creatures that have taken up residence there - provides a neat and compact adventure for starting characters, with some interesting leads to future exploits especially if they choose to take up the introduction to the Pathfinder Society that's a likely reward. Every creature encountered has a good reason to be there, giving a pleasant coherence - some came together, others have arrived independently and may have interacted since... and of course, there's what was left behind by the former owner, ages ago! Groups wishing to participate in the Pathfinder Society shared campaign could use this to launch their involvement, as it is authorised for campaign play and the required record sheet is included.
The pre-generated characters provided are also interesting, as they are 1st-level examples of the iconic characters from the Advanced Player's Guide - this adventure was released a couple of months prior to this work's publication.
Overall a neat adventure that would make a good start to a Pathfinder campaign, particularly if you intend to use Pathfinder Society adventures or indeed wish to participate in the shared campaign.
Return to Master of the Fallen Fortress page.
Reviewed: 4 July 2010