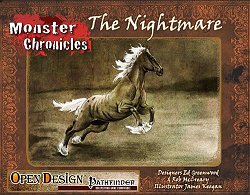 Launching Open Design's Monster Chronicles series for Pathfinder, this work describes a fell creature of legend: the Nightmare. Forget bad dreams and wild horses, this is something quite different and - in this interpretation - a LOT more scary!
Normally serving as mounts to the most potent of Bad Guys, they are very hard to catch especially on their home plane... hence their riders are, by virtue of merely being mounted on a nightmare, obviously beings to be reckoned with. But never mind the rider, nightmares themselves are intelligent and potent foes, especially if you are unlucky enough to encounter a pack of them.
Copious details of their habits, anatomy, physiology and likely interactions with other creatures are given here - plenty enough for them to be a spectacular one-off encounter or a recurring theme in your game. The way in which they produce the flames for which they are notorious is particularly interesting - apparently it's something to do with their sweat. Particularly devious characters might be interested to know that a piece of nightmare flesh continues to secrete the flammable substance and if kept under a fire-resistant liquid can be used as a powerful firebomb...
Catching and binding a nightmare to one's will is a challenging task, and could provide an entire adventure if a character wanted to acquire such an exotic steed. The desert variant is detailed fully (the regular sort is in the Pathfinder Bestiary), and... yes. They do cause people who encounter them to have nightmares of the bad dream variety.
There's an amazing amount of detail crammed into the 8 pages of this book, a fine example of an 'ecology' article that puts a monster in its proper context so that it becomes much, much more than just something to fight.
Return to Monster Chronicles: The Nightmare page.
Reviewed: 27 April 2010