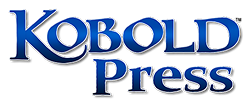 The Pathfinder ruleset is just one of those supported by Kobold Press (formerly Open Design), with a mix of new material and that adapted from resources written for other fantasy game systems.
Early releases include the new Monster Chronicles series and the Pathfinder version of the Imperial Gazetteer. Next up, Advanced Feats which looks at ways of enhancing the new character classes in the Advanced Player's Guide from Paizo, and Divine Favour, looking at those classes which draw on divine powers. Party of One is a series of solo adventures that may be played without a GM. Monsters of Sin is a themed series of monsters and other goodies (or is that baddies?) based on the Seven Deadly Sins of Christian belief.
The material is based in Midgard, Wolfgang Baur's own campaign world, which is being developed into a full-blown campaign setting. Most can be used with minimal adaptation in your own campaign world.

Page last updated: 19 August 2015