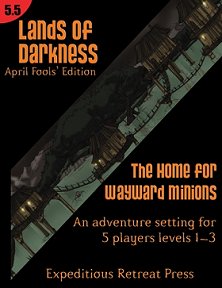 Despite being billed as an 'April Fool' offering, this is not a ridiculously funny adventure. You may feel that the concept of a training camp for minions is a bit silly, but given that you can study just about anything (and even get degrees it it!) in the real world, why shouldn't the lowly minion go and learn his craft?
A few reasons are given to encourage characters to visit this swamp-based training camp. If they do so, they will find a series of huts on raised walkways - deceptively simple but naturally all is not quite what it seems! Everything is laid out clearly, with diagrams showing how the monsters are positioned at the start of each encounter, and notes on setting the correct number depending on the level of your party. The whole thing should prove straightforward to run, if a little basic.
And that's the rub: it is very basic. A linear walk-through with monsters that want to fight, only the 'boss' at the end might prefer to talk rather than brawl. It's a nice concept, but much more could be made of it as either a serious setting or, if preferred, a joke one. It doesn't really manage to be either, but could probably serve as something to do with a low-level party if you didn't have time to prepare anything. A minor quibble, one trap is supposedly based on the Fibonacci series... but it's incorrect! (So I can mention it without spoiling anything, as you'll still have to deduce the sequence used!).
This could have been much more fun... but there are a couple of undeveloped areas on the map, see what you can come up with for them. The good layout and clear instructions that should make it easy for a novice DM are the best points. Perhaps it's really a training camp for DMs rather than minions?
Return to The Home for Wayward Minions page.
Reviewed: 10 April 2010