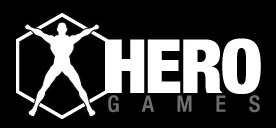 Primarily known for their house ruleset HERO System, Hero Games was started in 1981 and has continued to thrive, with changes in management and affilitations with other companies over the years. From 1985-1995 Hero Games was distributed and published by ICE, but this arrangement ceased when ICE decided to concentrate on their Middle Earth roleplaying lines.
The HERO System was originally used in several game lines and did not appear as a generic ruleset until 1989.
Champions - superhero game
Dark Champions
Fantasy Hero
Justice Inc.
Star Hero
Pulp Hero
Visit their website.
Company Section last updated: 4 April 2010