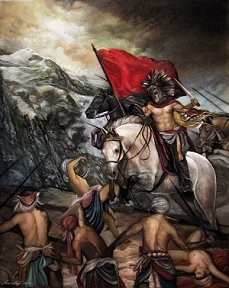 A sombre opening, with Arabic overtones, sets the scene... hints of drumbeats accelerating into full-blown action.
This work shows a good understanding of the structure of Arabic music and uses it to good effect (I must confess I happen to listen to this genre quite a lot!). There are hints of hoofbeats and the clash of swords, but while these suggest combat they are not intrusive and will serve as a backdrop to what is happening in your game rather than dictate the course of the conflict in which your characters are engaged.
While you may have many suitable encounters in your games, I'd particularly recommend it for the Pathfinder Adventure Path "Legacy of Fire" if you happen to be running that. And of course, it serves as good inspirational music as you plan desert adventures for your players.
Overall, this captures the feel of 'desert' and 'conflict' exceptionally well and is recommended.
Return to Desert Battle page.
Reviewed: 18 January 2010