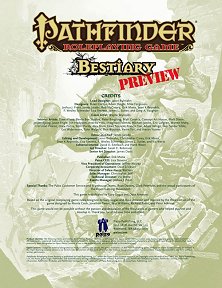 For those who just couldn't wait for the Bestiary to come out...
Publisher's blurb: "Although the Pathfinder RPG Bestiary is still several weeks away from its release date, that's no reason why you can't get started playing adventures like Pathfinder Adventure Path #25: The Bastards of Erebus or the various Season 1 Pathfinder Society Scenarios! This preview shows off not only some of the new rules we're using for monsters (like the following simple templates and the concept of universal monster rules), but also presents 22 preview pages taken directly from the Pathfinder RPG Bestiary itself.
"These monsters were selected for two primary reasons - to cover all of the monsters that appear in The Bastards of Erebus that got short stat blocks rather than full stat blocks, and for players of Pathfinder adventures who use summon monster, summon nature's ally, and similar spells. There's even quite a few animal choices for druids to wildshape into, and a full list of familiars for arcane spellcasters to pick from. We also threw in a few extra surprises..."
More when I get hold of a copy!
Book Details:
Authors: Unknown
Publishers' Reference: PZO1112PE
ISBN: n/a
PDF, pages unknown
Date: August 2009
Buy this product:
Product page last updated: 10 January 2010