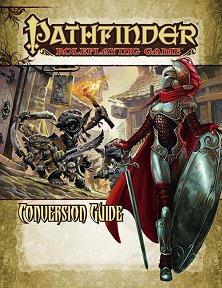 While basically compatible with Dungeons & Dragons 3e, you can use this product to fine tune material from that ruleset to make the most of the Pathfinder rules.
Publisher's blurb: "This guide is intended to make converting your 3.5 game to the Pathfinder Roleplaying Game quick and easy. It includes rules for converting characters, monsters, feats, spells, prestige classes, and magic items from the 3.5 version of the rules to the Pathfinder Roleplaying Game. To use this conversion guide, you will need a copy of the Pathfinder Roleplaying Game Core Rulebook, as page numbers and tables referenced throughout this conversion guide refer directly to that book. While the Pathfinder Roleplaying Game Bestiary is useful in converting monsters, the guidelines in this document will suffice.
"The first half of this document addresses how to convert characters, covering everything from ability scores to experience points. This step-by-step process is primarily for adjustments to player characters, but a quick version is presented later for making changes to minor NPCs and villains. The second half of this document deals with converting existing mechanics, including prestige classes, feats, spells, and magic items. While this guide tackles a wide variety of issues, Game Masters should expect to adjudicate a number of minor issues that fall outside this scope."
More when I get hold of a copy!
Book Details:
Authors: Unknown
Publishers' Reference: PZO1110Con
ISBN: n/a
PDF, pages unknown
Date: September 2009
Buy this product:
Product page last updated: 10 January 2010