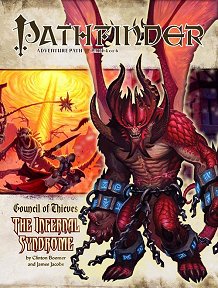 Part 4 of the Council of Thieves Adventure Path, this adventure is for characters of 7th to 9th level. The product also includes notes on the citadels and secrets of the Hellknights, insights into the soul-shaking world of fiendish possessions, five new monsters and fiction.
Publisher's blurb: "In the bowels of one of Westcrown's most esteemed halls of power lies an unfathomable evil, a terror beyond all reason and sanity, shackled and broken by the magic of a lost archmage. For years this menace has laid fuming, endlessly testing the bars of its prison, gathering its hatred and planning its revenge. Now the machinations of a deadly conspiracy have weakened the chains of this nightmare's bonds, and in their growing cracks rise the flames of the damned and the promise of Westcrown consumed in hellfire. Can the PCs infiltrate the labyrinth of a madman to put an end to an evil beyond even the heroes of legend? And what foulness would seek to ruin all of Westcrown by gambling with its very soul?"
More when I get hold of a copy!
Book Details:
Authors: Clinton Boomer and James Jacobs
Publishers' Reference: PZO9028
ISBN: 978-1-60125-198-5
Paperback, 96 pages
Date: January 2010
Buy this product:
Product page last updated: 9 January 2010