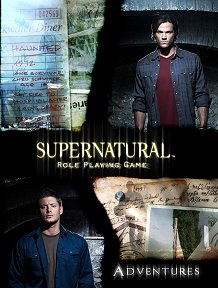 In some respects, as the Introduction says, running adventures for the Supernatural RPG is easy - place some kind of supernatural adversary terrorising the location of your choice, and let the characters loose. But if you are short on ideas or time, here are five adventures to keep your players out of mischief. A few words of advice on running this particular game to good effect, and it's off to the first adventure...
First up is 'Red Ghost' by Jess Harley. Set in Arizona, the characters need to find out what's happening to construction workers on the site of a new casino. As well as an interesting adventure 'as is' there are also some thoughts as how it could be modified to suit your needs should you not want an adventure in the American southwest or wish to make a few changes to what is presented here. It is also possible to vary the sequence in which events are presented - while most characters will visit the site first and then do some research, some may prefer to work the other way around, while other events can be slotted in as convenient. Those who know the area (or who like me have Google Maps open in another window!) will be able to locate the adventure accurately around the town of Camp Verde off Highway 17, which can aid your creation of an 'alternate reality.' It's a nice, coherent adventure with a clear adversary to defeat.
Next is 'Transmutations' by George Holochwost, a tale of alchemy that will be best dealt with by characters prepared to use their brains as well as their fists. Set in Baltimore, it all begins when the characters visit with the daughter of an old but now deceased friend. It's her 18th birthday, and her friends have arranged a night out at a new local nightspot. This adventure is fairly linear, but there's a lot going on in the early stages for characters to get involved in even before the supernatural bit kicks off... and while the object is naturally to defeat their adversary, he'll make a good recurring enemy for an entire campaign if they fail.
The third adventure is 'Hell Hound on my Trail' by Graeme Davis. It's designed to occur wherever the characters happen to be, rather than requiring them to visit a specific location. It all begins when a fellow with demon troubles asks for some help... and things just go downhill from then on. A quite open-ended and multi-layered adventure, it requires a GM who can think on his feet and is a good bare-faced liar! There is also considerable scope for future contacts or even whole adventures spinning off from this one, a nice contribution to an ongoing campaign.
Next comes 'His Lesser Half' by Ralph Dula. Set in New Jersey, it's quite big on combat with enough of things that are not what they seem to keep characters who prefer investigation to brawls interested. Again, there's scope for further adventures to spawn from this one depending on the characters' actions.
The final adventure is 'Synchronicity' by C.A. Suleiman. Creative and compassionate thinking, rather than brute force, are required from the characters if they are to succeed in an adventure that begins with an invitation to come celebrate a decorated war veteran's retirement with a weekend at a mountain cabin in West Virginia. Then local hunters start to vanish...
Overall, this is a fine and varied selection of adventures, faithful to the spirit of show and game and clearly presented in a manner that will be easy to run, with plenty of potentional to weave into your own campaign.
Return to Supernatural Adventures page.
Reviewed: 7 January 2010