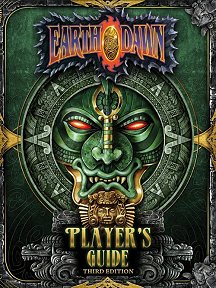 Learn all you need to create and play a character in this richly-developed world.
Publisher's blurb: "Before science, before history, an era of magic existed in our world's dim past. Magic flowed freely, touching every aspect of the lives of men and women of the Namegiver races. It was an age of heroes, an age of fantastical deeds and mythical stories. It was the Age of Legend. Now, bold heroes from across Barsaive band together to fight for life and freedom against the remaining Horrors and the oppressive Theran Empire, which seeks to bend the rebellious province again to their yoke. Through noble deeds and sacrifice, the heroes of the world forge Barsaive's future, arming themselves for their daunting task with powerful magical spells and treasures.
"Earthdawn is a fantasy roleplaying game set in a world of high adventure, high magic, and terrible danger. The Player's Guide takes player characters from the First to Eighth Circle in their Disciplines and contains everything you need for years of play, featuring revised game mechanics, including hundreds of spells, talents, and skills, and much more!"
Book Details:
Authors: Eike-Christian Bertram, Carsten Damm, and James Flowers
Publishers' Reference:
ISBN: 978-1-906508-59
Hardback, 304 pages
Date: August 2009
Buy this product:
Product page last updated: 18 May 2010