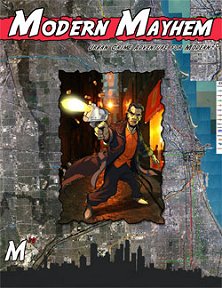 Modern Mayhem starts with a simple premise: the characters are on the run from the law. They've been framed and will have the opportunity, if they so wish, to try and straighten things out, or wreak vengeance on the person responsible.
There's a lot going on from the very outset, with plenty of options at every turn - and a neat game mechanic called the 'heat meter' to enable you to use their choices to influence the intensity of the man-hunt that's after them. As well as the twin advantages of material gain and staying out of prison, numerous opportunities to make friends - or enemies - of assorted gangs and other people of note in the 'home neighbourhood' in which they have taken refuge. A second game mechanic tracks how well the characters are doing at staying on the side of the angels - they were, remember, innocent victims of injustice to start with! While it is almost certain that they will commit crimes during this campaign, they have opportunities to make moral choices - things like destroying a drugs cache or selling them in the place of the drug dealers from whom they've been, er, confiscated. Depending on what they have been doing, there are different options for the climactic finale, so their actions throughout the campaign really do have an effect on their lives and futures. But it isn't a rewards and punishments system, it is more a way of modifying outcomes to suit the way in which they have conducted themselves. Notes are also provided to enable you to use this mechanic in your own adventure design if you so wish.
Overall, this is an excellent contemporary campaign which starts with a bang and is full of interesting things to do and people to interact with, building up a real feel for the underworld of a city in which tough choices have to be made to survive. Add in two neat additions to game mechanics which both serve to alter the course of events based on character actions, and this is quite a winner!
Return to Modern Mayhem page.
Reviewed: 16 November 2009