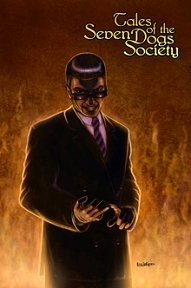 Three stories. One Seven Dogs Society... or is it? Imaginations have run riot, taking the Society as described in the Aletheia rulebook and putting flesh on the bones. Ideas that you may wish to be inspired by in writing your adventures, or perhaps something to pass around to serve as an introduction to the people you want to play in your game.
First is Matt McElroy's headlong tale 'Time to Burn.' Told in the first person, from the viewpoint of a Society member who is a former private investigtor with an interesting ability, the story centres around an enquiry into what might be a spate of spontaneous human combustion in Wisconsin. Good hints on how an investigation into such matters might proceed, perhaps a little thin on what is actually going on but an exciting ending which also reveals something of the PI's special talent.
Next is 'Lifting the Gingham Veil' by Jim Johnson, which opens as a new member of the Society visits their base in Alaska for the first time. The action soon hots up, in a tale loosly based around investigation of a UFO sighting but really more concerned with the Society members getting to know each other and their abilities. Again, good ideas for your own adventures, including what is intended as a recurring and mysterious adversary. The one confusing point is that while the Society has reformed several times, both this group and the one in the previous story is the third iteration! If both tales are to become part of YOUR Society, you might want to make a few changes.
The final tale is 'Twin Designs' by Monica Valentinelli. Somewhat more mystical in nature, it presents yet another version of the third incarnation of the Seven Dogs Society, focussing on young twin men, whose troubled lives seem intertwined with Things That Are Meant to Be... again interesting concepts that you may wish to take as inspiration.
Overall, an intriguing set of stories that may serve to contribute, enlighten or confuse your understanding of the Seven Dogs Society and the underlying mysteries around which the game of Aletheia is set.
Return to Tales of the Seven Dogs Society page.
Reviewed: 11 October 2009