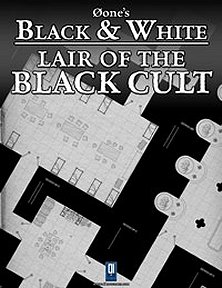 The basic concept of this product is to provide a ready-to-use fantasy location, with a one-page referee map and a set of customisable maps breaking that location down into 8" x 10" sections suitable for use with miniatures. 0one's usual high technical standards aid you in presenting the map just the way you like - and there are even scenario ideas if the location hasn't already started to spawn ideas in your mind.
So, this location is the home of a rather dubious-sounding religious organisation, rumoured to kidnap the unsuspecting for unspeakable rituals. Or, of course, they might be really nice people and your adventurers have a completely different reason for visiting their home. Or, indeed, it could be a base for your characters...
Be that as it may, the place is disguised as an orc camp - who knows, your adventurers might have chanced on it and fancied a night of orc-bashing... and are in for a bit more than they bargained for! For those who delight in adventure locations that can actually be the dwellings of whatever or whoever you put there, essentials such as a latrine, kitchen and sleeping quarters are incuded. (I once ran a game in which the players spent quite some time exploring the ablutions on the grounds that they must have some significance because they were there on the map! Even monsters need relief, you know.)
It's a nice compact complex which, with suitable introduction and population, should provide a good evening's play. The customisation allows you to display (or not) the grid, furniture, etc.; while labels only appear on the referee map. You can also turn off the black fill completely on such as walls, or switch it to grey, depending on how you like your maps to look or if you wish to conserve ink.
Overall, a nicely-presented lair suitable for use the next time your players have a run-in with an evil cult or the like. All you need to do is decide who's in there for them to fight. A useful resource to keep to hand.
Return to Lair of the Black Cult page.
Reviewed: 29 September 2009