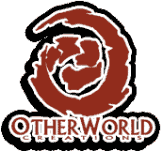 Otherworld Creations, run by R. Hyrum Savage and David Webb, has the aim of creating supplements for role-playing games with an emphasis on play-ability, clarity, and product support. Product line include campaign settings, adventure modules, and other supplements to be used with the d20 and RuneQuest systems, and they are working on an attempt to produce a 3rd Edition of Chill.
In an interesting move, several settings have been rewritten for more than one system, so whatever game you like to play you can use the setting and concepts! Follow links below for settings, or use the complete product list to find resources for your chosen game system.

Just in case this seems too straightforward, in 2009 a new imprint, Super Genius Games, was launched; and many products appear under either or both label! Visit the Super Genius Games website for yourself and see if you can make more sense of it all than I have!
Diomin - fantasy setting, available for Dungeons & Dragons 3e and RuneQuest campaigns
Forbidden Kingdoms - 1920s pulp setting, originally written using Dungeons & Dragons 3e then revised for D20 Modern
Strike Force 7 - modern military/comic book setting available for D20 Modern, RuneQuest and Savage Worlds games
Pathfinder RPG Resources - including the Genius Guides and Loot-4-Less product lines
Visit their website.
Company Section last updated: 16 April 2012