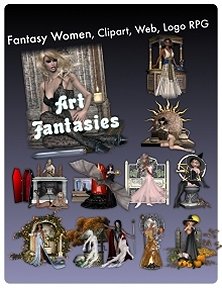 The 'trade dress' of this product leads you to expect something that's virtually soft porn, and if you do happen to like the scantily-attired female form you will not be disappointed... but there is plenty here for those who appreciate tasteful artwork on a fantasy theme as well.
What you get is a Zip-file of 11 TIF images, all full colour and big enough to fill my admittedly large screen! The artist admits to using mainly computer graphics in the creation of the images, and at times they seem a little wooden in pose and maybe in need of a few more iterations of the rendering cycle to improve texture, but on the whole they are pretty good-looking (in more than one sense of the word).
The image 'Dancing girl and garden gate' shows a well-proportioned young lady nicely-attired in a ballgown or flowing ballet dress - you could show her to your grandma without raising any eyebrows - with both her pose and the swirl of her gown giving a good impression of movement. Not very 'fantasy' but a nice image. The 'Beauty and Beast-Zombie' on the other hand is - at least as far as Beauty is concerned - a classic swimwear pin-up, although the zombie is rather well-done. Another nice one is the 'Wiccan and pumpkin patch' - complete with a well-rendered Siamese cat, pumpkins and some autumnal leaves, she has a flowing black lace gown and a fine witch's hat... and could be displayed at your Hallow'een party whatever the age of the guests. Despite the cat, though, her hair is not very well done, a shame as the rest of the image in both rendering and composition, is excellent.
My favourites, though, are the 'Princess' - a dusky beauty in a white gown with some rather implausibly large apples and a beautiful backdrop of a stone arch over which some kind of flowering vine has grown and what is probably the best technically, the 'Slave Girl and Sundial.' Now she admittedly is not wearing much - I hope she's a slave somewhere with a warm climate! - but she's well-posed and the composition of the background of the sundial and a couple of pots is excellent.
If you like quality fantasy art and are not put off by the odd 'calendar' pose, this collection is worth a look.
Return to Fantasy Women Clipart Volume 1 page.
Reviewed: 19 August 2009