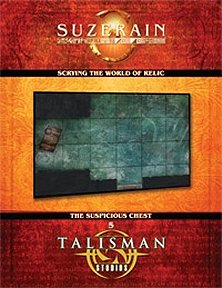 Presented with Talisman's customary style and panache, this is a neat single room encounter with the potential to develop into much more.
As usual, there's a lot packed into this product. An encounter, with the opportunity for both social interaction and at least one if not two brawls. A new magic item, a spell, a monster and a new (and novel) sentient race. A nice tile if you want to lay it in front of your players, and a Deal-A-Dungeon card if you prefer that approach.
Even if Suzerain isn't your game, the premise behind the encounter is so good that anyone who enjoys running dungeon crawls, particularly those that go beyond 'kill monster, steal loot, repeat,' will want to use the concept in whatever system you do use.
A fine specimen of the 'Suzerain Scrying' series, well worth a look.
Return to Suzerain Scrying 5: The Suspicious Chest page.
Reviewed: 16 August 2009