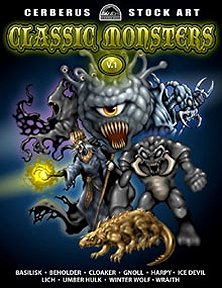 Handy for anyone who likes beautiful illustrations in a work they're distributing - provided that they want one or more of the ten monsters featured herein. They are a basilisk, a beholder, a cloaker, a gnoll, a harpy, an ice devil, a lich, an umber hulk, a winter wolf, and a wraith.
You are spoiled for choice, with a PDF sheet that shows you the monsters you're getting, plus a Zip file with each individually in three different formats - JPEG, GIF and PNG. These images are considerably bigger than the ones in the PDF, of course - I just opened the delightfully ferocious looking beholder and he's filling my admittedly large monitor at only 36% of full size! (I shall have to keep this handy for startling unruly students... if he appeared on the whiteboard I reckon they'd settle down quickly!)
The comprehensive provision means that you can easily utilise the monster of your choice within whatever you are working on, and scale it to a suitable size, place it on a background and so on... it's left to you to work out how, but this is not a computer class, it's a collection of stock art. In general, the pictures are crisp and clear, and conform to popular conceptions of what the monster in question ought to look like. The harpy is a delightfully-raddled old crone, while the umber hulk brings back unhappy memories of that fighter of mine who was eaten by one...
If you are publishing something which would benefit from pictures of any of these critters, this is a good buy. The licence allows use in colour or greyscale, as cover or interior art, and with any modifications you feel necessary - pretty wide ranging, and without a requirement to credit the source, although good manners would suggest that you do so anyway.
Return to Classic Monsters - Volume 1 page.
Reviewed: 16 August 2009