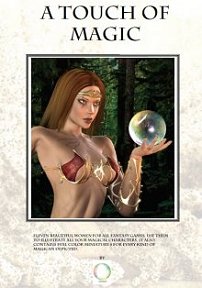 I'm always a little dubious when the cover picture appears to be in her underwear: is this game-related art or soft porn? Fortunately the quality of the art herein rises well above that. It's a collection of eleven ladies who are all magic-users of some kind. Their costumes are quite wild and fantastic, several would not be out of place on a Las Vegas stage, were they that sort of magician rather than the fantasy sort. Now I'm not prudish, more practical - and while these might be good outfits down the tavern, they are not garments for adventuring in!
First up is 'The Wizard' who is a slightly nervous-looking blond in a somewhat impractical red and gold costume. Next is 'The Darkelf' and her attire is so scanty that it must be very hot in the Underdark... but she is truly beautifully-drawn. And so it goes on. 'The Spelldancer' is caught chucking a fireball, but could pass for a cheerleader. 'The Wizard' (the cover girl) is caught in contemplative pose in a forest glade. All are without exception very beautiful young ladies, who must have started magical study very early to be fully-fledged adventurers already. Or is this some young gentleman mage's collection of pin-ups... yet tasteful enough that he needn't rush to hide them if his grannie came in!
If you fancy using one of these ladies as your character, there are double-sided paper miniatures for each one. You also get PNG versions, making it easy to put the image of your choice into your character sheet as well. There's a note that the images may be put to any use, personal or commercial, but none of the usual requests to credit sources if you do use them in a publication. I'm no fan of legalese, but these pictures are nice enough to warrant decent protection even if the intent - as in many art collections - is to simplify the process by stipulating that purchasing the collection grants rights to reuse the images in commercial publications.
In short, if you need an image of a female magic-user (or just like looking at nice pictures), this is a collection worth considering.
Return to A Touch of Magic page.
Reviewed: 6 August 2009