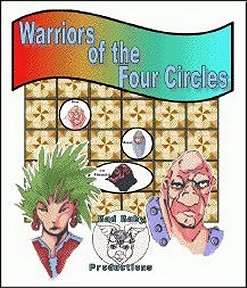 This is a neat skirmish game set up to allow martial arts combat either one-on-one or in a full-scale brawl. That said, buying a skirmish game as a PDF requires some time and effort in preparation of your game pieces before you start to play - there are battle tiles, cards and counters to print out, and (if you want them to survive the skirmish!) mount on card. Even if you have suitable miniatures to hand to replace the counters, you'll need the tiles and cards. However, it's worth the effort!
The rules are a bit jumbled in presentation, as once ways of preparing your playing pieces are discussed, they mention almost in passing that you need to select a scenario and choose 'characters' and battle tiles as appropriate, but then dives in to talking about 'characters from different factions' before you get to find out the basic capabilities of all characters, let alone what the differences are between the factions. Things settle down a bit to reveal that each character has statistics, shown on a data card, that show what he can do... then there's a representative card and the statement that the full explanation of the various abilities is in the Character Book, a separate PDF in the zip file you download on purchase. The actual process of playing the game - a turn-based system with characters acting in an order set by their speed - is quite clear although why the example refers to someone playing a Robot I am not sure. It's a comprehensive combat system with a lot of options in terms of actions and moves available... combined with some interesting battle map tiles you can come up with some spectacular sequences! The level of detail is excellent allowing something close to a role-playing game's level of sophistication with both what you can do and the effects that your actions have.
The scenarios are interesting and varied, and to continue the 'almost role-playing' theme, some of them actually give reasons for why you are having a fight (apart from the obvious one of "We're playing a skirmish game..."). The Character Book gives comprehensive details of the different characters available to choose from, and there is a points system for games in which massed armies are to fight to ensure some measure of balance between the opposing forces. Martial arts styles are well-covered, with an array of different skills and the potential for mixing them to produce your own distinctive style based on your character choice.
Overall, it is an elegant skirmish game with enough variety to take it out of a mere brawl to a level where both wise selections of initial abilities and clever tactics once entered into battle will make the difference between victory and defeat.
Return to Warriors of the Four Circles Set 1, Mini-Game # 76 page.
Reviewed: 5 August 2009