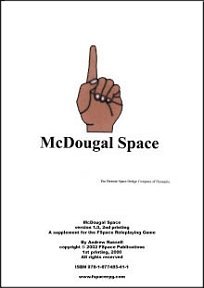 This work is presented - in its entirety apart from the back page advertising other FSpace product - as if it were one of those glossy brochures you get handed at business conventions, trade shows or shareholders' meetings. OK, the production values are not as good, but the background behind this book is that it is actually an original idea submission sent to the FSpace publishers (although if pitching to a publisher, a little more attention to grammar and spelling might be in order - but I do nit-pick about the correct use of the apostrophe!).
McDougal Space is an interstellar spaceship design company. Although there is an established product line, it appears that their main work is not as shipyards but in design consultancy and licencing ship and other designs to anyone happy to pay a royalty fee to make them. There are interesting snippets of information about the company's founder, one Sir Alvin McDougal, and his continued role with the company despite being a physical invalid... his mind, interfacing with powerful computers, is still a potent force! Several ships are also described, each personalised with an account of one enthusiastic user of that design.
Copiously illustrated with pictures of ships and ship plans, as well as full technical details, it is a ready resource for some of the 'workhorse' spaceships every starfaring culture needs, while the users could feature as NPCs (fancy a band of musicians, whose pilot doubles as camera operator while the steward's a dab hand at make-up?) and the company itself could feature on the commercial scene of your universe. Moreover, the whole thing's written 'in character' so you could hand it out... or use it as a template for creating your own companies. A nice gem.
Return to McDougal Space v.1.0 page.
Reviewed: 30 July 2009