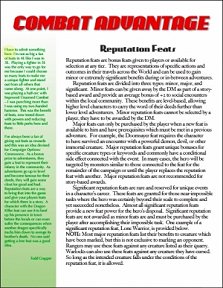 Whether you are lauded in song by every bard in the land or your name is used as a curse... it's all down to your reputation!
Publisher's blurb: "The sixth release of our Combat Advantage PDFs for 4th Edition features Reputation Feats, a new type of feat that can be awarded to PCs or purchased based on successful adventures.
"Minor reputation feats grant a PC a minor benefit when encountering townsfolk, purchasing or selling items. They are never bought, but granted by the GM to award a PC for a job well done and are meant to represent the infamy a hero gains as he makes a name for himself.
"Major reputation feats work as normal feats, but have unique requirements. For example, the Dragon Slayer feat can only be purchased by any character who has slain a dragon at least three levels higher than himself. Learning from his experience, the hero earns special advantages against other dragons, but leaves himself vulnerable against other dragons in the future."
Book Details:
Author: Todd Crapper
Publishers' Reference: EP-CA06
ISBN: n/a
PDF, 6 pages
Date: November 2008
Buy this product:
Product page last updated: 18 July 2009