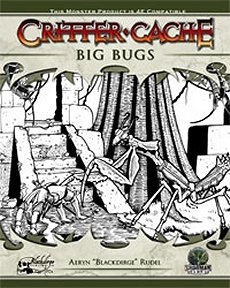 Herewith presented without further ado are a collection of large bugs designed with but one purpose in mind - to scare and challenge any party of adventurers. Even if you don't mind small creepie-crawlies, these ones are guaranteed to make you think about running away!
The critters involved are ants, beetles, centipedes, crustaceans, mantis, slugs, and wasps. Each is given a thorough write-up with plenty of description as well as necessary rules material, clearly arranged to facilitate planning or reference during play. Detailed line-art drawings, some with human figures to indicate just how big the bugs involved are, illustrate each entry. Variants are included, so for example there are soldier, worker and queen ants; along with likely battle tactics and a note on the lore a knowlegeable character might be able to remember about the creature in question. There's also a list by level and monster role for those planning encounters.
It's a neatly-presented and useful product, and if you intend to incorporate any of the named creatures into your adventures well worth getting. It might even give you ideas for combat encounters you hadn't considered...
Return to Big Bugs page.
Reviewed: 14 June 2009