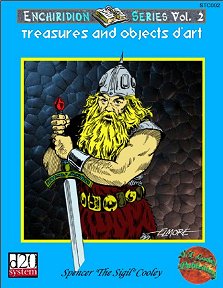 Do monsters, Bad Guys, dungeon-builders and other adventuring party targets really fill their lairs with nothing more than gold pieces and the odd magic item? If you want some more variety in the loot available, here's something to lend a hand... or if you are looking for something special to spend your spare cash on now that you have all the weapons and armour that you need...
Publisher's blurb: "The Enchiridion of Treasures and Objects d'Art is intended as a resource for players and DMs alike. In it is a system for creating truly memorable (and believable) treasures - from single distingushing pieces of equipment to exotic treasure hoards. This system for creating objects d'art has the flexibility to create literally billions of works of art, from engraved gold chalices to finely spun cloaks to weapons made of gemstone and other exotic materials."
More when I get hold of a copy!
Click HERE to buy this from RPG Now.
Book Details:
Author: Spencer "The Sigil" Cooley
Publishers' Reference: STC002
ISBN: Unknown
PDF, 144 pages
Date: January 2003