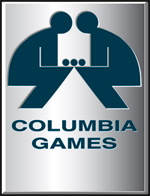 Columbia Games dates from 1982, and is based in Washington State, USA. It produces board games, skirmish games and the Hârn RPG - both rules and a richly-detailed fantasy setting.
Hârn - consisting of the wonderfully-detailed setting of Hârn and the HârnMaster ruleset
Hârnlore - journal supporting Hârn
Visit their website.
Company Section last updated: 20 February 2016