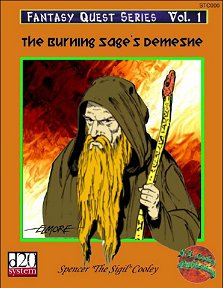 An adventure for 4th-level characters, including maps in both PDF & Campaign Cartographer format.
Publisher's blurb: "Approximately seventy years ago, Orestian, a mage of great prominence, retired to continue his study of heat, fire, and other related spells. He announced his retirement at the 23rd Festival of Fire (commemorating his defeat of a pair of green dragons which were ravaging the countryside) and further announced he would select an apprentice at the 25th Festival of Fire. He promised that his apprentice would return in to choose another apprentice at the Festival of Fire five years subsequent. This process was to continue – every five years, his apprentice would announce the new apprentice at the Festival of Fire – and in the event of his death, instead of announcing the new apprentice, his old apprentice would announce his death.
"The 100th Festival of Fire took place two weeks ago and it has been five years since the last apprentice was chosen – a young foreign man named Radinnal Kra'alin. This year, a new apprentice should have been chosen. But Radinnal never appeared at the festival. Concerned, the local ruler has procured a map from Resrov (the leader of the last expedition to the keep, which occurred eight years ago) and is now searching for a hardy adventuring band to go to the keep and inquire as to the state of the sage."
Thanks to S.T. Cooley for making this available!
Available FREE, click HERE to get your copy from RPG Now.
Book Details:
Author: Spencer "The Sigil" Cooley
Publishers' Reference: stc000
ISBN: Unknown
PDF, 36 pages
Date: