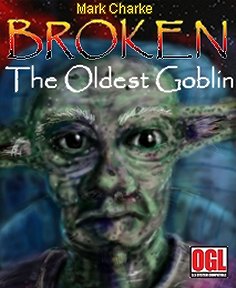 Downloaded as a zip file that contains a full-colour 'screen' version in landscape format and a 'printer-friendly' version that omits the coloured background but still has the colour illustrations and rather oddly is still in landscape orientation, this work depicts an old goblin, one old enough to recall the shattering of Solaris and, indeed, life before the catastrophe occurred.
The first page is a musing, a rumination by this goblin, Meander by name. At the end of his life, he has a melancholic tone: life on Solaris for a poor goblin was a hard struggle, survival of the fittest, but still infinitely preferable to post-Break life. Next comes his character sheet, in which he is given the class of Tinkerer which is to be published in a later work, Broken: The Pipedream (this being the name given to the construct in which Meander and other survivors now dwell).
Next, back to Meander and his summary account of the history of life in the Pipedream - mostly uneasy truce between gnome and goblin, the main inhabitants, with some savage brawls over thefts - the first such fight being of such brutality that subsequent quarrels over theft were settled with fists rather than weapons by mutual agreement - and a mass battle after part of the construct lost its integrity, with the associated loss of air, plants and other resources. Sadly, that fight was almost by mutual consent, the participants realising that the habitat could no longer support them all so the population had to be reduced. Other events and notable visitors are also described in the same melancholic tone.
This is followed by a section in which the advantages and disadvantages of old age are described. Although it sounds like Meander penned it, the appropriate rules are there as well so you can apply them to your own characters as they advance in years. The next section is straight rules, with a collection of new feats appropriate for living in Pipedream or if you are a gnome or a goblin.
Back to Meander, and his account of how other Pipedream residents surprised him with a birthday party. His history of the Pipedream continues with a description of the area dedicated to recycling, which is smelly but peaceful, and then continues the timeline forwards with sporadic introductions of new foods to their limited diet and more visitors... some unwelcome pirates, others more benign traders. It ends with the current crisis. After a meteor strike, it has been determined that only a quarter of the population can be supported, and the rest will have to leave. This story, and that of Meander himself, is continued in Broken: The Pipedream.
Beautifully, the work ends with a tribute to Gary Gygax, co-creator of Dungeons & Dragons, who passed away while the book was being written.
This is a fine mix of atmospheric writing and handy apposite rules - especially those on the effects of advanced age, which could serve to enhance any game whether based in this setting or another.
Return to Broken: The Oldest Goblin page.
Reviewed: 9 May 2009