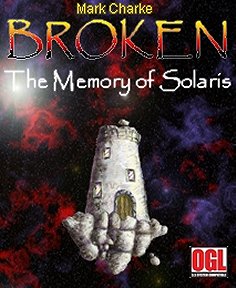 One of the most unusual settings for Dungeons & Dragons yet encountered.
Publisher's blurb: "Solaris was a fantasy world, richly populated with magic, psionics and technology. It had a wide diversity of cultures, religions and races. Unfortunately, Solaris was destroyed.
"Forty years later, Broken: The Memory of Solaris tells the story of the survivors who struggle in the cold void of space. On drifting fragments, their once great culture has to soften stone so it can be eaten, recycle food, renew the critical air bubble and try to create some trace of heat.
"Some dream of finding a new world but suffer the reality of the vast distances and lack of a map. Others have turned pirate, eroding what little is left. Perhaps though, there is hope with the new generation that does not miss a world never seen, adapting since birth to life in the void.
"Broken: The Memory of Solaris is a new d20 fantasy campaign. It deals with recycling, micro-environments and the rigors of space. Broken introduces the Crystal Psion class, 5 new prestige classes, 11 new feats, a new domain and 30 new spells, 9 new powers, a handful of magic items and artifacts, 17 new monsters (including playable races and a new dragon) and three short adventures. Broken has an entire chapter devoted to survival in space using real-world facts. This includes weightless movement, producing oxygen with plants, sleeping without drowning in carbon dioxide, direct exposure to sunlight or darkness and the problems of radiation as well as supernatural problems and solutions."
More when I get hold of a copy!
Book Details:
Author: Mark Charke
Publishers' Reference: X-BROKEN-01
ISBN: n/a
PDF, 114 pages
Date: August 2007
Buy this product:
Product page last updated: 2 May 2009