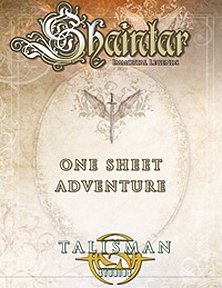 A neat little adventure, which casts the characters in a diplomatic role attempting to avert a looming war caused by the betrothed of one faction leader's son running off with the other faction leader. Naturally there is a lot of intrigue going on, a devious plot or two to discover... and plenty of opportunity to deliver diplomatic messages with the sword-point as well as with the tongue!
Beautifully presented, the main characters are detailed, and while it's only 2 pages long there is sufficient material to provide for a goodly bit of adventure.
Return to Neither Love Nor Honour page.
Reviewed: 28 March 2009