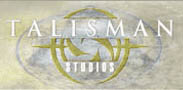 Talisman Studios is an exceptionally friendly and nice group of like-minded creative types, who bring worlds to life through high quality roleplaying games and gaming accessories in the shape of their main three product lines. Everything looks good too!
Gamescapes - range of sumptuous maps, 'story cards' and stock art on various themes
Shaintar: Immortal Legends - epic swords & sorcery RPG using the Savage Worlds ruleset
Visit their website.
Company Section last updated: 9 December 2009