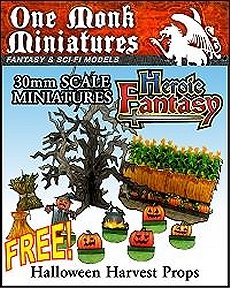 This set consists of a collection of neat farm-related cardstock props, in 30mm scale, to add atmosphere to your layout for a game set on a farm in autumn, especially if you require a bit of a spooky atmosphere.
As regards generic rural items, there are rows of standing wheat and corn (maize) plants with which you can create a field by printing out lots of them and lining them up - ideal for monsters to hide in and jump out on unsuspecting characters, and good for chases, if a bit fiddly - it will be easy to scatter them while trying to manoeuvre miniatures through the field! Similar rows are provided for a pumpkin patch, while if you are setting a traditional Hallowe'en scene, there are a few stand-alone carved pumpkins as well as a scarecrow with a pumpkin head and a cauldron. Something titled 'farm rows' which appear to be bare earth to let you simulate a ploughed field, assorted sheaves (for when the harvest has been gathered in) and a gnarled leafless tree - complete with a few owls to perch in its branches - are also provided.
This is a nice collection to add visual interest to your tabletop although items may prove prone to falling down once the action hots up. But it's free, so why not tuck it away against the day there are spooky goings-on in a farm near your game.
Return to Halloween Harvest Prop Set page.
Reviewed: 21 March 2009