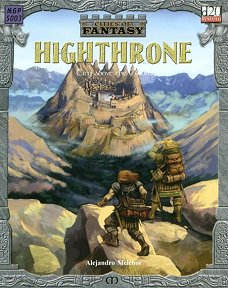 Anyone venturing here will need a head for heights, not just physical ones but those of accomplishment and of power.
Publisher's blurb: "The sun breaks through the highest mountain peaks, the clouds slowly parted by the wind to reveal a marvel of human ingenuity, Highthrone, a grand city clinging to the cliffs and mountain slopes, teeming with people who got used to living - even thriving - at heights reserved for the proudest and strongest birds, dragons and spirits.
"Highthrone is a city of contrasts, to all appearances a noble and successful city of proud, resourceful people who have weathered all that the extremes of mountain life can throw at them. Appearances can be deceiving however, for beneath the surface lies a rich mixture of political turmoil and approaching conflict."
More when I get hold of a copy!
Click HERE if you want to buy this book from Amazon.com or HERE if you prefer to use Amazon UK.
Book Details:
Author: Alejandro Melchor
Publishers' Reference: MGP5003
ISBN: 1-903980-43-7
Paperback, 64pages
Date: August 2002