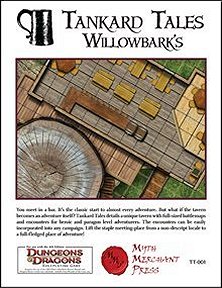 In fantasy role-playing, to start an adventure in a tavern is a classic... but this tavern is quite special. Not only does it come with detailed inhabitants and even battlemaps, there are two adventure ideas centred around the place, one suitable for Heroic Tier characters and one for Paragon Tier ones. Both adventures can be just one-off events that take place when the characters happen to drop in for a drink or the night, or can be the start of a whole campaign.
The location of Willowbark's is left deliberately vague, somewhere on the edge of civilisation, so that you can put it wherever is convenient within your campaign world. It's known as a good place for adventurers to meet and tell their tall tales. The inn itself is well-described, including the food and drink on offer (useful if you struggle to come up with exotic drinks and their prices off the top of your head). The staff, too, are provided with beautiful word-pictures to help you make them come alive to visitors; and there are a few rumours to be had as well as a dark secret to discover... but no patrons are described, you'll have to come up with the other customers for yourself.
The two adventures are based around the Sons of Soryk, a local adventurers' guild. Your characters may be part of it (especially if you run the Heroic Tier adventure for them), or it may come as quite a surprise to them. An outline of each adventure is given to enable you to decide if you'd like to use them, and then each is presented in sufficient detail for you to run it, complete with all the necessary stat blocks, rules, tactical notes and so on. Maps are supplied, showing where everyone and everything of note is located.
Finally, the battlemaps. These have been presented in such a way that when you print them, overlaps are provided to make alignment simple; and the layer effects are used to allow you to decide just what will appear on the map. A spare sheet of furniture is also provided: if you do not like the layout provided, disable the furniture layer and place these as you choose instead. In appearance, everything is crisp and photo-realistic, very attractive.
While both adventures are short, and basically consist of a combat encounter with a rationale to back each up; the whole thing is very well presented both visually and in terms of the text, and should prove easy to run. A good example of how to provide everything the busy DM might need to get on with the business of actually running the game.
Return to Tankard Tales: Willowbark's page.
Reviewed: 14 March 2009