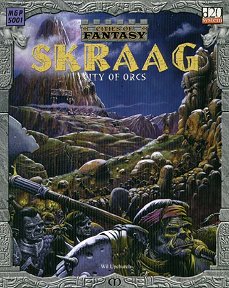 For many people, just a handful of orcs are threat enough. Here's a whole city-full to contend with!
Publisher's blurb: "Home to over twenty-five thousand rampaging orcs, Skraag is a city of pure brutality, a place of nightmare that even the bravest adventurer will fear to tread. Built from the ruins of an ancient dwarven stronghold the orcs themselves destroyed, the hordes of Skraag range for miles in every direction, brining slaughter and misery to any community unfortunate enough to be within range of their predations. Few dare to make their way into Skraag, for the orcs are an evil race that despise any not of their own kind. To travel on the plain of Skraag, or within its deep caverns is to court death itself."
More when I get hold of a copy!
Click HERE if you want to buy this book from Amazon.com or HERE if you prefer to use Amazon UK.
Book Details:
Authors: Wil Upchurch
Publishers' Reference: MGP5001
ISBN: 1-903980-15-1
Paperback, 64 pages
Date: March 2002