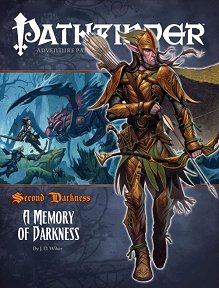 Intrigue galore but plenty of honest-to-goodness combat as well! Number 5 in the 'Second Darkness' adventure path, aimed at characters of 11th-13th level.
Publisher's blurb: "Armed with the knowledge that an elven traitor supplied the drow with the magical means to call down the stars and devastate Golarion, the PCs arrive at the elven nation of Kyonin to find their claims falling on deaf ears. Courtly intrigue leads to a confrontation with a mysterious elven order called the Winter Council, deep in the demon-haunted shadows of the legendary forest known as the Tanglebriar. Yet one final tragic and horrific secret awaits them as they discover the true source of the dark elves' curse.
"This volume of Pathfinder also features an exploration of the faith of Calistria (goddess of lust, revenge, and trickery), a gazetteer of the elven nation of Kyonin and demon-haunted Tanglebriar, a bonus adventure detailing the lair of a powerful demon, and several new monsters that lurk in this dangerous realm."
More when I get hold of a copy!
Book Details:
Author: J.D. Wiker
Publishers' Reference: PZO9017
ISBN: 978-1-60125-130-5
Paperback, 96 pages
Date: January 2009
Buy this product:
Product page last updated: 12 January 2009