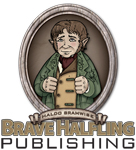 Brave Halfling Publishing exists as a way for gamers to publish their own creative role-playing material the way they want it published. "At Brave Halfling Publishing, we work together in an atmosphere of friendship, assuming that everything we do is to help each other. None of us participate in BHP to earn money. We do it because we have a passion for role-playing games and want to share with others our best creative material." So says founder and pastor John Adams, based in Illinois, USA.
Delving Deeper - Labyrinth Lord Classes and other character resources
Castles & Crusades - adventures
Kids, Castles and Caves
Original Edition Adventures
Original Edition Options
OSRIC Resources
Visit their website.
Company Section last updated: 9 August 2009