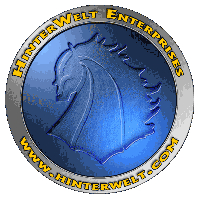 Hinterwelt is a small press company dealing mostly with science fiction, fantasy and role playing games. Hinterwelt was formed in 1998 to promote the fantasy role playing game Tales of Gaea. Later such games as Nebuleon and the Alternate Earth were started allowing an in depth effort to bring a simple yet detailed system to the science fiction genre of role playing.
Their core ruleset is the Iridium system, which uses skills to define a characters abilities. A simplified version, Iridium Lite, is also available.
Iridium System
Nebuleon - science-fiction game using Iridium
Roma Imperious - fantastical historical game using Iridium
Shades of Earth - 1938 alternate history game using Iridium
Squirrel Attack! - lighthearted game using Iridium Lite
Supers Inc. - superhero game using Iridium Lite
Tales of Gaea - fantasy game using Iridium
Visit their website.
Company Section last updated: 3 January 2009