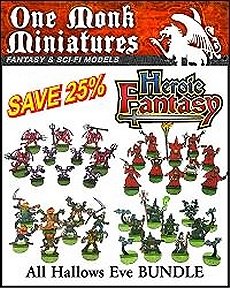 Simple in concept, fairly straightforward to put together, and good-looking on your table... without the expense of collecting and the effort of painting metal miniatures.
This 'bundle' set consists of a sheet of various scarecrows and Jack-O-Lanterns, one of witches and bats (including a bat swarm), one of devils and imps prancing around, and one of assorted evil cultists who all look ready to sacrifice you to whatever it is they worship. There are 2 copies of each sheet, one in full colour and one in outline only should you prefer to substitute your own colour scheme. There's also an instruction sheet on how to create bases for the figures once cut out, and a sheet of grass circle bases should you want to use them. The figures could slot into plastic figure bases if you prefer something a bit more robust.
Useful to anyone planning a game along a Halloween or general horror theme, you can have just a few or a whole army of these greeblies to assault your characters across the tabletop. The variety of poses are good, and the drawing avoids being cartoon-like with a fair measure of versitility in use, and clear features. OK so they won't be that robust, but if one falls apart just print out another!
Return to All Hallows Eve Bundle page.
Reviewed: 2 January 2009