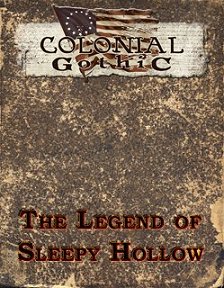 Many of us draw inspiration from fiction when plotting adventures. Here, Rogue Games have stepped the concept up a notch by reprinting a short story by Washington Irving (1783-1859) and then showing how ideas and locations can be used to good effect in a Colonial Gothic game.
Irving's tale is a fine period piece, an atmospheric telling of American backwoods country life and the perils of too many ghost stories told just before you have to ride home in the dark. Like all the best ghostly tales, you're left guessing as to whether the spooks are real or imagined... or a bit of both. Sets the scene well for anyone planning Colonial Gothic games, the mixture of reality and otherworldliness.
In the second part, the story's setting - the area around the Tappen Zee on the Hudson and in particular Sleepy Hollow - are discussed as a suitable location for your game. After an account of the pre-1600s Native American activity in the area, the arrival of Dutch settlers is covered, and subsequent history as the British purchased and plundered follows. Next, there is a map and gazetteer of the area as it is in the period in which Colonial Gothic is set.
A discussion of how the War of Independence affected the area leads into a series of adventure ideas. Finally, for those who like to blend fiction with fact, there's a short bibliography.
Overall, it's a nice setting but the adventure ideas - or storylines of your own - will require considerable development before you are ready to sit down at the table.
Return to The Legend of Sleepy Hollow page.
Reviewed: 14 December 2008