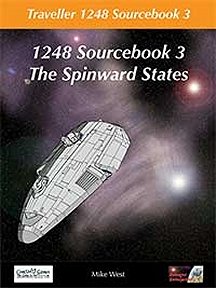 Spinward States presents the details on the original home of Traveller, the Spinward Marches, and its three sister sectors that were once the most spinward portion of the Third Imperium.
Publisher's blurb: "A century after the fall of the Third Imperium, the Spinward States are the fractured remains of the once stalwart Regency. The tragically flawed Regency was able to fend off the darkness and the depravity of Virus, and to shepherd its worlds into the New Era, but was not able to survive into it. But the Spinward States are more than just the remnants of the Regency. Some are portions of the shattered Zhodani Consulate. Others are the fractious remains of the Aslan Aorlakht.
"All of these Spinward States, both large and small, struggle for survival, prosperity, and triumph. Some want to chart their own way. Some want to be beacons of light to those around. Some want to just be left alone. And some want to reclaim lost glory at all costs. Each of the Spinward States is detailed and explained, with their histories, present situations, and desired futures.
"Spinward States presents maps and UWP information for all four sectors of this region, from the Wild Frontiers on the edges of Deneb and Reft, to the cauldron of Aslan clans, to the tangled web that is now the Spinward Marches. Everything in the four sectors is covered, and guidance is provided for surrounding areas."
More when I get hold of a copy!
Book Details:
Author: Martin J. Dougherty
Publishers' Reference: CSRT0039
ISBN: n/a
PDF, 186 pages
Date: 2008
Withdrawn from sale due to excessivly restrictive licencing, 2008
Product page last updated: 4 December 2008