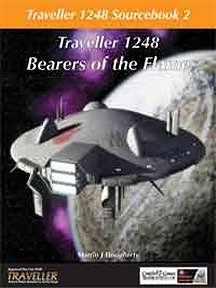 Bearers of the Flame presents complete details on the Fourth Imperium, successor to the tragic Third.
Publisher's blurb: "A century after the fall of the Third Imperium, the Fourth Imperium is the bright hope for the future of Charted Space. Leading the fight against the genocidal Dominate, forging trade corridors through the Wilds or rebuilding shattered worlds, the Fourth Imperium stands at the forefront of the great reconstruction.
"But all is not well within the Imperium. It may be that the founders made one too many compromises, for now internal politics is beginning to weaken the young empire when unity is more vital than ever. Beyond the borders, tensions with the Vilani Imperium are rising, while out in the darkness a thousand worlds call for aid. The Imperium is stretched thin, perhaps too thin, but the call must be answered.
"Bearers of the Flame details the Imperial political and economic structure, its military forces and other services, and the hierarchy of the Nobility. Imperial High Law is explained, along with the rights and role of electronic beings, defensive and foreign policies, and a wealth of other details that bring the new Imperium to life.
"Bearers of the Flame presents maps and UWP data four entire sectors of space, ranging from the safe and civilized regions deep within Imperial space to the chaos of devastated Ilelish sector. Several minor powers are also detailed. These pocket empires may be enemies or allies, destinations or starting points for expeditions across the Wilds. This book is a complete guide to the greatest state of Charted Space in the New Era. Never before has the Imperium - any Imperium - been developed in such detail."
More when I get hold of a copy!
Book Details:
Author: Martin J.Dougherty
Publishers' Reference: CSRT0024
ISBN: 1-933866-06-3
Paperback, 168 pages
Date: August 2006
Buy this product:
Product page last updated: 4 December 2008