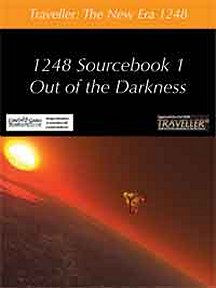 Fascinating attempt at drawing diverse histories together into a coherent timeline.
Publisher's blurb: "A century after the Third Imperium tore itself apart in civil war and dragged the rest of Charted Space down into ruin, Humaniti still teeters on the brink of extinction. But now there is hope. For emerging from the darkness are the powers of the New Era; the Fourth Imperium, the Terran Commonwealth, the Freedom League, the Zhodani Concord and many others. Diminished, battered and bloody, they remain as beacons in the night and as bastions against the howling tides of destruction.
"Out of the Darkness continues the story begun with MegaTraveller's Rebellion setting and moves forward from the early-reconstruction era of Traveller: The New Era. Compatible with all rules versions, Out of the Darkness presents an overview of Charted Space, with answers at last to the Big Questions of the New Era.
"The history section tells of the fall of the Third Imperium and the fate of each faction. The tales of the survivors are told as well as those who strove and failed. The bright defiance of Archduke Margaret?s faction, holding the line to the end; the vainglorious grab for Capital by the Vilani Imperium and of course the horror that became the Black Imperium of Emperor Lucan. From the Second Rule of Man to the New Lords of Kusyu; from the honourable Republic of Regina to the living hell of the Black Imperium remnants, each successor state is unique. Out of the Darkness presents an overview of each, to be further developed in future products.
"Between these fledgling empires lie whole sectors of Wilds, punctuated by pocket empires and trading alliances. An entire section of the book deals with conditions in the Wilds and how to generate UWP data for Wilds systems. Later sections of the book present answers to the big questions of the New Era universe - the Empress Wave and its effects on human space, the nature of Virus, and what lay behind the Black Curtain surrounding Capital. The fate of the Star Vikings is revealed as they forge Corewards to the aid of their lost human cousins."
More when I get hold of a copy!
Book Details:
Author: Martin, J Dougherty
Publishers' Reference: CSRT0020
ISBN: 978-1933866055
Paperback, 168 pages
Date: July 2006
Buy this product:
Product page last updated: 4 December 2008